Largest Manufacturer and Exporter Of Premium Coconut Oil, Where quality and modernity blends
ABOUT US
Royal Rich. An ISO 22000:2015 Company
Premium Coconut Oil
Largest Manufacturer & Exporter Of Premium Coconut Oil
Royal Rich. An ISO 22000:2015 Company Royal Rich is an ESSEN group facet founded years back. We are one of the ISO 22000:2015 company, with enriched experience nearing to 3 Decades. Royal Rich have been fruitfully contributed a lot in the field of pure edible oil starting from Kerala and gradually spanning across whole India through our Prestigious Customers. Since last 3 years, we have been exporting our Roasted Coconut oil to all GCC countries, USA, Western European countries Singapore etc. We have achieved all this progress through our non compromise policy on quality, relentless hygienic standards and satisfaction of our products assurance to our valuable consumers and customers as well. Roasted Coconut oil manufacturing with zeal of perfection and quality made us obtaining recognition in Kerala, other states and trading of other edible oils also lined up within our arena. Now, Royal Rich has been widely reached and accepted across all over India and other major Export markets in various countries.
Explore About us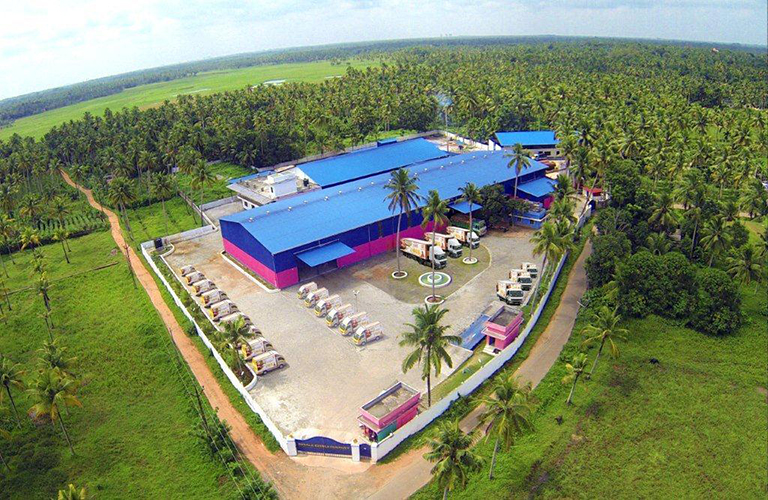 100% PURE
EXPERIENCE THE TASTE
QUALITY GUARANTEED
5 TIMES FILTERED
DC TECHNOLOGY
OUR PRODUCTS
Where quality and modernity blends
TASTE THE QUALITY
Purity & Quality Guaranteed
5 TIMES
FILTERED
Royal Rich collects only the best of copra direct from coconut farmers. The final products reach the hands of our customers after being filtered 5 times. This 100% unadulterated oil helps balance the cholesterol level in the body ideally.
ISO 22000 - 2005 COMPANY
An ISO 22000: 2005 certified company, registered under ESSEN group, Royal Rich as enriched experience nearing to three decades, in the production of Coconut Oil.
DC
TECHNOLOGY
The most modern DC technology is applied in filtering the oil and ensuring its quality. Royal Rich Premium Coconut Oil is rich in Lauric Acid which enhances the immunity power of human body.
PREMIUM ROASTED
COCONUT OIL
Royal Rich's uncompromising stand on quality is the prime reason in making it the No.1 Roasted Coconut Oil produced in India and abroad. From Copra collection to packaging, we take immense pain to ensure quality and hygiene in all levels.
WHY ROYAL RICH ?
Health Benefits
Pure
100% Pure Natural Roasted Coconut oil

Variety
Roasted – copra pieces are roasted

Long Shelf Life
Sourcing of good quality coconut/copra, thorough drying to remove all moisture, fine filtering and tight packing ensures long shelf life

Edible Use
This coconut oil is suitable for use in all types of cooking. Salad dressing, deep frying, shallow frying and raw consumption.

Hair Use
Nourishes the skin, moisturizes hair, strengthens root, keeps the head cool and widely used as hair oil either as it is or with additives

Healthy
Easily digestible, improves metabolism, aids weight loss. Reduces bad cholesterol and improves heart health. Boosts immunity.

Convenient Packing
Different pack forms, materials and sizes with desired strength for convenient carry, long shelf life and use
Available
General stores of Kerala & Exports to other Countries
Promotes Weight Loss
Coconut oil is easier to digest compared to other oils while it gives all the benefits of consuming an oil. So replacing other oils with coconut oil promotes weight loss.

Metabolism
Medium chain fatty acids in Coconut oil are easily digestible. It helps improve food metabolism and provides instant energy. Due to this factor it is used by athletes to improve their performance.

Boosts Immunity
Coconut oil helps improve our immunity system through its anti-viral, anti-bacterial and anti-fungal properties.

Energy
Coconut oil's medium-chain triglycerides are more rapidly absorbed and utilized by the body's cells. More cellular energy means that you have more energy all over
Brain Functionality
Coconut oil break down into ketones, which can be used by brain cells for fuel. The idea is that supplying the brain with some extra fuel might make it run better.
Skin Care
Coconut oil reduces inflammation, keeps skin moisturised, treats acne and helps heal wounds.
Over 50000+ satisfied
customers
I am a house wife and the partner of "Savour Best" Caterers. We're happy to suggest everyone about Royal Rich edibles. The Coconut oil is 100% pure and all our cuisine prefers only Royal Rich. All the foods that we serve are tasty, stomach friendly and healthier. Thanks Royal Rich.
Rashida Shereef..
Customer
As a chef, it's wonderful to cook with Royal Rich edibles. The Coconut Oil is pure and natural and the culinary is enjoyed by all walks of our clients alike. Cooking with Royal Rich gives me much confidence and satisfaction..
Rohit Verma.
Customer